Labor emulation atmosphere among workshops, teams of Lisemco in the last days of 2013

Following up work time schedule committed for each month of the fourth quarter in 2013 and in order to complete projects signed with Clients in time, labor emulation atmosphere in all workshops and teams of Lisemco.,JSC becomes "hotter and hotter" with a high spirit of entire employees and workers in the last months of this year.
                                                              Workers are studying drawing before fabrication.
                                            Entire workers in Workshops, teams are utterly dedicated to their work.
Nevertheless, so as to complete production plan in accordance with commitment, there has been underground competition between workshops and teams in Company.  Everyone is trying to speed up manufacturing schedule of his unit without saying to each other so that the work can be done in the shortest and it 
gets best-quality products.
 Taim Werser project is being executed by Workshop No.2
Baltec project is being executed by Ship-building WS No.1
Tyazmash 158-5 project is being executed by Ship-building WS No.2
Not only workshops and teams working outside but also the ones working inside are also accelerating fabrication to fulfill the plan in time. 
Project CMI Tashkent is being executed by Workshop No.1
Project Pormosa Sandvik is being manufactured by Workshop No.1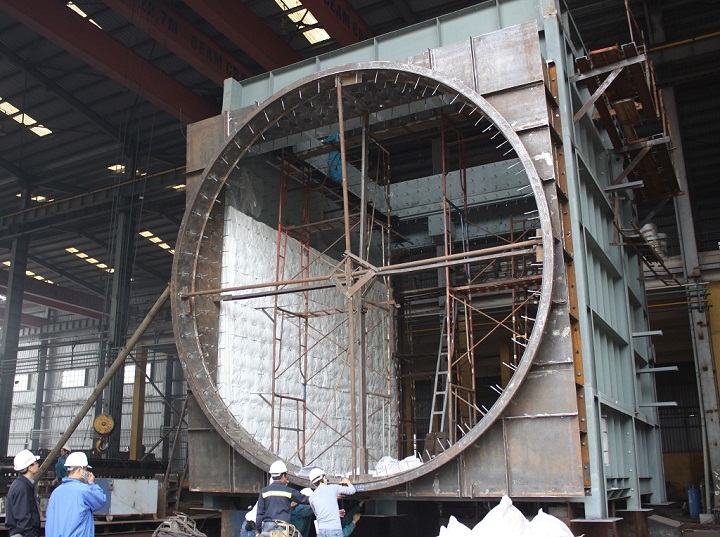 Project Baltec is being manufactured by Ship-building WS No.1 and No.2
The sweat pouring down workers's face could not hide their radiant smile with a belief " to win, to complete all assigned works".
Under the strict management of Company's Leaders and with encouragement, reward of Company's labor union in favor of units that complete assigned works in time as well as with enthusiasm, zealous labor, spirit of the union, and efforts for common goals of all employees and workers in Company basing on which we can fully believe that Company will fulfill the plan than expected and manufacture according to planned output in the last days of 2013 as prerequisite for plan implementation in next year 2014.